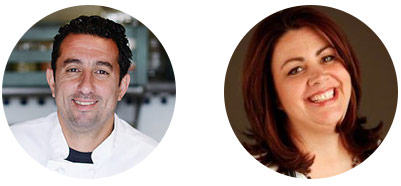 Bella Cafe Grand Opening – Thursday, September 7th, 2017
Multi-Award Winning Celebrity Chef Franco Vitella & Food Network Chef Ally Vitella have incorporated a healthy lifestyle menu and a new cafe inside Bangz Salon & Wellness Spa.
Spa guests will be able to taste complimentary bites of Chef Franco's catering menu while making fresh food choices on his organic pop up menu.
The menu will consist of organic juices, protein shakes, local farm salads, and sandwiches. Vegan and gluten-free choices will be also offered. Check out the delicious menu on the cafe website or download the menu (PDF).
The grand opening of Bella Cafe is planned for Thursday, September 7th. The Cafe will be open on Thursdays and Fridays from 10am-3pm and on Saturdays from 9am-3pm. Online ordering will be available at bellacafenj.com.