Andy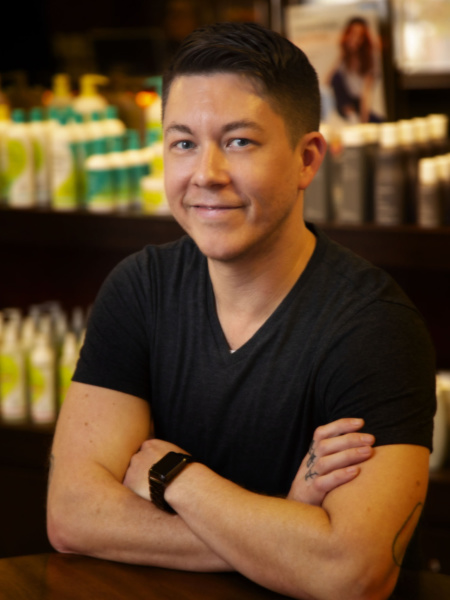 Why do you love being a stylist?
"I love the idea of transformation and as a stylist, I get to be a part of that every day."
Hair Inspiration/Role Model:
Aesthetically Inspired by David Bowie, Isabella Blow and Daphne Guiness.
Specializes In:
Haircuts on all Hair Textures, Customized Dimensional Hair Color, Hair Painting and Highlights
Favorite Product:
Sebastian Mousse Forte – it provides ultimate volume and bounce without being sticky.
HOURS:
Sunday: 9am-1pm                                                                                                                                                        Thursday:  9am – 1pm
Friday: 3pm – 8pm
Saturday: 8am – 1:30pm and 8am – 4pm
SCHEDULE UPDATE***STARTING SEPTEMBER 17, 2020 **** 
EVERY SATURDAY AND SUNDAY ONLY : 9AM-4PM
Favorite Place to Eat in Montclair:
Mundo Vegan
Hobbies:
Making Art of all kinds including illustration, painting, recording music and film. I spend most of my time writing.
Training: Graduate of The Academy NYC, a Paul Mitchell School. Evening with Michael O'Rourke, Jan '12; An Evening with Wella Top Artist Alexandra Matiz, Feb '12; NIOXIN Product Knowledge w/ Top Artist Vinnie Ferrara, Apr '12; ECRU NY Freedom of Style, May '12 & May '13; DevaCurl w/ Top Artist Denis DeSilva; Sebastian All Star PK Launch Sept '12; Wella Illumina Haircolor Aug '13; Motivational Seminar w/ VIto Mazza Sept '13; Art of Hairpainting w/ Wella Artist Cherish Gordon, Oct '13; Wella Reds w/ Wella Artist Cherish Gordon, Jan '14; Label M London Calling, Mar '14; Haircutting Trends w/ Wella Top Artist Mark DeBolt, May '14; Haircutting Trends w/ TruBeauty International Top Artist Phillip Wilson, Aug '14. Graduate of BangZ in-house educational program. Has volunteered time and talent for various charities and events including the Speak Easy Vintage Fashion Show @ BLISS, Jan '12; Davines Sustainable Beauty, Oct '12; Wella Color ID, June '14; Fashion Week, Sept '14. Wella Reds w/ Nicole Faugno; Men's Barbering; Redken Shades EQ w/ Julie Lahr; Wella Haircutting Trends w. Anna Vaul.