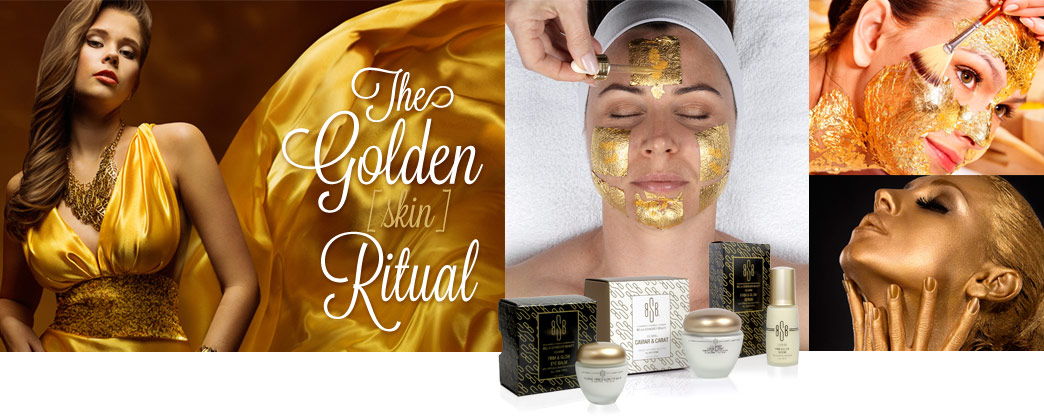 Cleopatra slept with a pure gold mask on her face to maintain a radiant complexion and preserve her beauty. Gold boosts blood flow, spreads cellular processes, restores elasticity and creates glowing even skin tone. Gold increases the skin's metabolic rate and moisture levels, helping to buffer against premature aging by reducing wrinkles, fine lines, hyper pigmentation, also reducing under eye circles. Dazzle yourself with Bangz Signature Gold face and body treatments and enhancements.
24 kt. Gold Facial
A decadent 24 karat gold treatment. Gold elixirs, caviar ampoules and an application of gold leaf, leaves the skin brilliantly illuminated. Gold encourages skin to regenerate and increase cell turnover, reducing fine lines and wrinkles while making skin appear firmer and thicker.
155.00
Micro Gold Deluxe Facial
Upgrade your 24 karat gold facial by adding the ultimate skin polisher, microdermabrasion.
216.00
24 kt. Gold Hydrating Body Polish
This luxurious treatment begins with a gentle dry brush exfoliation followed by the application of our gold and caviar body polish. This body polish is comprised of amber, pure sugar cane, rich caviar and hydrating jojoba oil. A vichy shower will then remove the body polish leaving your skin silky smooth.  To finish off this relaxing service, a lotion application of our honey gold caviar cream will be applied to the skin.  The end result is an anti-aging hydrating treatment, which will leave you feeling pampered and your skin feeling moisturized and glowing.
130.00
Golden Ritual For Two
This exclusive treatment for two begins with the application of pure gold and caviar body scrub. Our therapist will wrap you in warmth and allow this body polish comprised of of amber,pure sugarcane and rich caviar penetrate into your skin as you slip deeper into relaxation with a scalp and foot massage. Our therapists will then guide you back to our lounge area where a warm shower awaits you. Upon your return to the treatment room our therapists will then apply the honey caviar massage cream as you deepen your relaxation with a b-well 50 minute massage. The royal affect of this luxurious treatment will leave your skin feeling amazingly soft and provide you with an unforgettable experience.
Champagne will be served throughout your service.
521.00
24 kt. Golden Duo
This service combines our 24 kt. Gold Facial and our 24 kt. Gold Hydrating Body Polish for a luxurious two and a half hours of pampering.
257.00
Micro-Gold Facial Upgrade
307.00
24 kt. Gold Enhancements
24 kt. Gold Eye Zone
31.00
24 kt. Gold Gleaming Body Oil
20.00