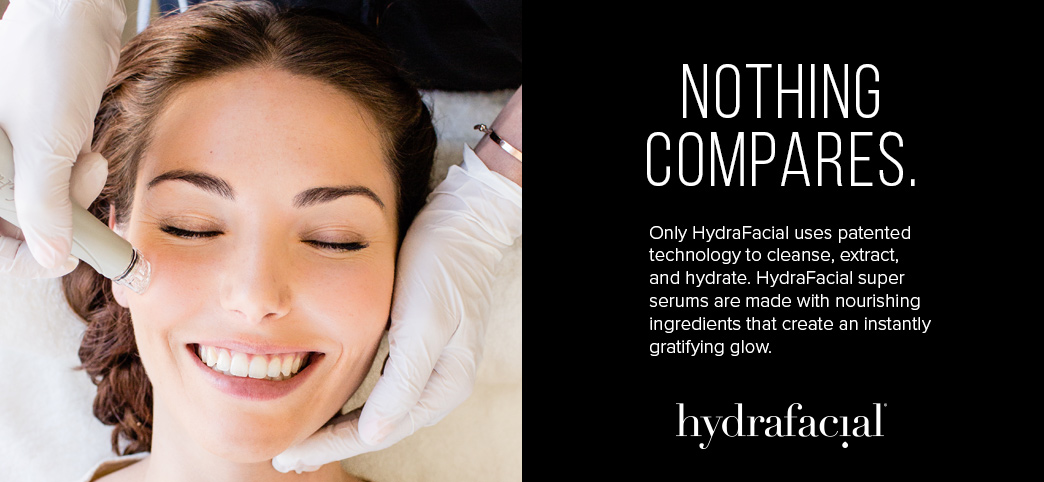 Introducing HydraFacial
The HydraFacial™ treatment is the newest advance in non-laser skin resurfacing. HydraFacial is the only hydradermabrasion procedure that combines cleansing, exfoliation, extraction, hydration and antioxidant protection simultaneously, resulting in clearer, more beautiful skin with no discomfort or downtime. The non-invasive treatment is soothing, moisturizing, and non-irritating and offers immediate and noticeable results with little to no downtime at all. The HydraFacial treatment improves the appearance of fine lines, wrinkles, congested and enlarged pores, oily or acne-prone skin, hyperpigmentation and brown spots.
The HydraFacial treatment is designed to achieve similar results to microdermabrasion and laser exfoliation, but much less harsh on the skin than those treatments. HydraFacial achieves results through gentle, liquid-based exfoliation rather than targeting and destroying skin cells to stimulate the body's repair processes like other, more aggressive treatments.
The HydraFacial procedure is suitable for most skin types, including thin or aging skin, ethnic skin, and dry skin or oily skin. What are you waiting for? Start your skin maintenance program now with HydraFacial and slow down your skin's aging process and delay the need for invasive procedures. See Pricing.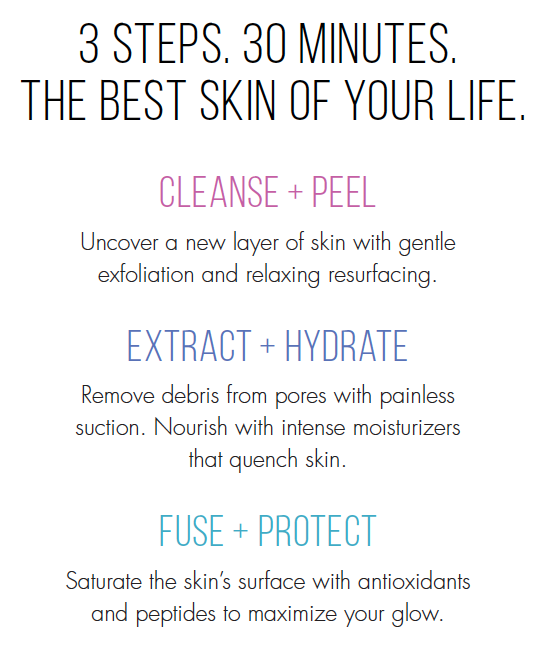 PRICING
HydraFacial – Platinum
The ultimate HydraFacial experience. Begin the detoxification process with Lymphatic Drainage. Follow with a Deluxe HydraFacial to deeply cleanse, extract and hydrate the skin. Address specific skin concerns with a booster to personalize your treatment and LED Light Therapy to amplify the best skin results.
1 Treatment – $335
Series of 6 – $1675
HydraFacial – Super Charge
The Deluxe HydraFacial with a choice of one of the super charged growth factor boosters and LED Light Therapy to amplify the best skin results.
1 Treatment – $315
Series of 6 – $1575
HydraFacial – Deluxe
The Signature HydraFacial with an added booster to help correct and treat your skin concerns.  Address specific skin concerns with a booster to personalize your treatment and LED Light Therapy to amplify the best skin results . . . also available for the back. 
1 Treatment – $265
Series of 6 – $1325
HydraFacial – Signature
HydraFacial uses powerful patented technology to cleanse, extract, hydrate and perfect your skin with super serums filled with antioxidants, peptides and hyaluronic acid leaving a lasting and immediate glow to the skin.  Great for women, men and teens! . . . also available for the back.
1 Treatment – $215
Series of 6 – $1075
HydraFacial – For the Neck and Décolleté 
The Signature or Deluxe HydraFacial with a super charged growth factor booster for neck and décolleté with LED Light Therapy to amplify the best skin results.
1 Treatment – $100
Series of 6 – $500
HydraFacial – For the Hands
This anti-aging hand treatment targets uneven skin tone and sun spots by nourishing your skin with hydration and antioxidants.
1 Treatment – $35
Series of 6 – $175