Alexis Van Brandenburg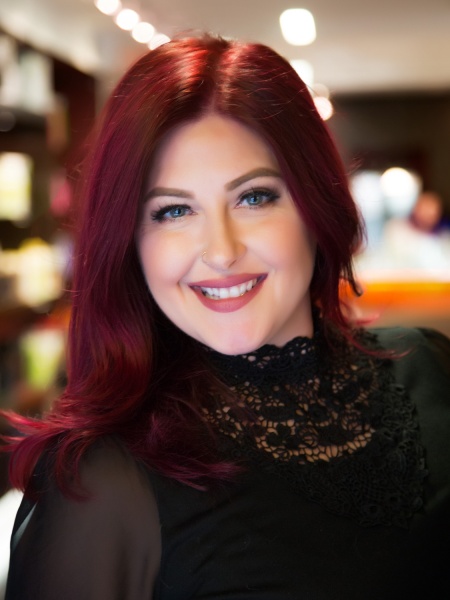 Why do you love being a stylist?
"Success is liking yourself, liking what you do, and liking how you do it."
-Maya Angelou
Hair Inspiration/Role Model:
Biggest role model was my mother. She was very successful, hard working and ambitious. I grew up in this industry and want nothing more than to succeed in it to make her proud.
Specializes In:
Color (In particular reds and blonde/lights tones), Highlighting, Keratin, make-up, Balayage, etc..
Favorite Product:
Livingproof Dry Shampoo
New York Streets Hairspray
HOURS:
Sunday: 9am – 5pm (once a month)
Tuesday: 11am-7pm
Wednesday: 12pm-8pm
Thursday: 10am -3:30pm
Saturday: 9am-5pm
Favorite Place to Eat in Montclair:
Red Eye Cafe
Cuban Petes
Hobbies:
When I'm not working, I love to cook . Anything and everything. I'm also a big movie buff. Especially Horror and Thriller movies.
Training :
Nioxin Systems; Pureology Products; Alterna Caviar Products; Lakme – Product and Master Colorist with Arda Hez; J. Beverly Hills – Men's Cutting 2010; J. Beverly Hills – Masak Inove & Juan Juan 2009; J. Beverly Hills – Master Colorist & Color Educator 2014; Label M Products; New York Streets Products; Saphira Products; Davines Products; Bionic System Certifications; Pravana Products & Color 2016; Framesi – Color class / Master Colorist 2006/2007; Alfaparf Color; Wella NYC Color contouring – June 2017. Halo Calligraphy Cut w/ Julian Seidel; Haircutting w/ Julian Perlingiero; Wella Hairpainting Gianna Liberatore; Wella Reds w/ Nicole Faugno; Men's Barbering; AQUA Hair Extensions; Global Keratin Hairpainting; ECRU Cut & Style Progression; ECRU The Trend Report w/ Emilie Luciano; Redken Shades EQ w/ Julie Lahr.
Certified: AQUA Tape-In Hair Extensions