Angel
Level 6 Stylist/Colorist - Keratin Specialist - Extension Specialist -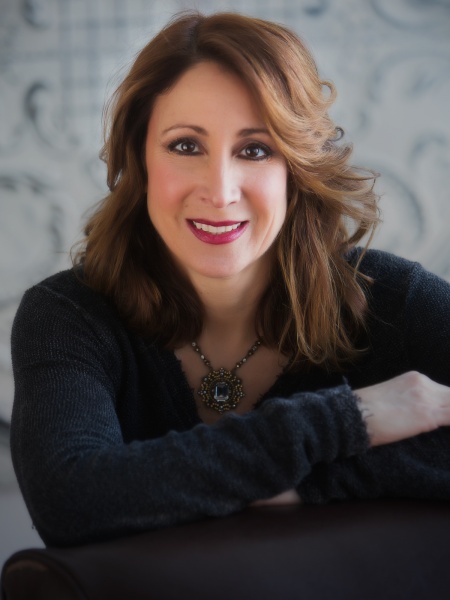 Why do you love being a stylist?
"I love being a stylist to make people happy and I love doing hair.  The day I don't will be the day I retire."
Hair Inspiration/Role Model
"My Uncle – Ever since I was a little girl I would watch him and I would cut all of my dolls' hair."
Specializes In
Hair Painting, Arrojo American Wave and Perms
Favorite Product
I actually love all of our products and love to pick the perfect one for all individuals to make it personal.
Favorite Place to Eat in Montclair
Fresco
Hobbies
Working Out, Hiking, Being A Mom
Training
Graduate of Wilfred Beauty Academy with 40 years experience. Sebastian & Trucco yearly seasonal updates, 1993 to present. Sexy Hair Concepts seasonal updates. Sebastian Creative Up-do workshops and Sebastian Colourshines. Sebastian/Trucco CommuniCut at the I-Zone in California and Sonora Bay, Club Med in Mexico. Wella's Dimensional Color & Cut with Claudette Couttes. Wella's 4-day Intense Color/Color Correction Workshops, Wella Studio in NYC. Logics International Haircolor. Aveda Concepts Advanced Seminars. Sexy Hair Concepts Advanced Haircutting "Ingenue" with Michael O'Rourke. Toni & Guy Advanced Haircutting. Framesi Haircolor. Label.m Future Classics Cutting Workshop. LakmeUSA Haircolor. Lakme Product Knowledge. Wella's Maximize Your Business Seminar. Label M "Get the Look" Advanced Haircutting Collection w/ Sonia Lyon Creative Artistic Director. Coppla Keratin. Sebastian Creative Immersion 1 w/ Anthony Cole; Global Keratin Hair Taming System "The Best" Certification; Sebastian's Creative Immersion w/ Anthony Cole @ Wella Studio, NYC; Wella Editorial Styling w/ Anthony Cole @ Wella Studio, NYC; Sebastian Fall/Winter Haircutting Collection: Happy Monday Haircutting Trends w/ International Top Artist Nick Arrojo;  Ecru hair cutting with Anthony Edge; Halo Calligraphy Cutting w/ Julian Seidel; Wella Hairpainting w/ Gianna Liberatore; Wella Color Contouring w/ Rachel Gugliemi; AQUA Hair Extensions; ECRU Style & Progression; ECRU The Trend Report w/ Emilie Luciano; Redken Shades EQ w/ Julie Lahr; R & Co Textured Bob; Wella Haircutting Trends w. Anna Vaul.
Certified:
AQUA Tape-In Hair Extensions
Arrojo American Wave Certified
Global Keratin Hair Taming System Certified
Global Keratin "The Best" Certified
HOURS
Bi-Weekly Schedule
Wk1:  Thursday 12-8 and Saturday 8-4
Wk2:  Wednesday 10-6 and Friday 9-5
LEVEL 6 – Service Pricing
Women's Haircut:   $130+
Women's Haircut w/ Iron:   $150+
Men's Haircut:   $90+
Short Blowout:   $80+
Long Blowout:   $85+
Blowout w/ Iron:   $110+
Updo:   $160+
Single Process:   $135+
Double Process:   $170+
Glaze/Gloss:    $90+
Surface Hilites:   $140+
Partial Hilites:   $200+
Full Hilites:   $225+
Surface Balayage/Hairpainting:    $140+
Partial Balayage/Hairpainting:    $200+
Full Balayage/Hairpainting:    $230+
Ombre:   $230+
Perm/Bodywave:   $215+
Spiral Perm:  Upon Consultation
Arrojo American Wave:  $430+
Global Keratin:    $440+
Global Keratin Blowout:  $250+    *does not include a haircut
Global Keratin Blowout w/ Haircut:  $380
Mizani/Rusk Anti-Curl Texturizing Treatment:    $210+
Hair Extensions:  Upon Consultation
NOTE:  Additional charges may apply on chemical services.  Please ask for a price quote before your service begins
ONLINE BOOKING AVAILABLE FOR ALL NON-COLOR APPOINTMENTS
https://na0.meevo.com/OnlineBookingApp/booking/guest-info?tenantId=101913&locationId=104376