Cory
Stylist/Colorist - Keratin Specialist - Deva Advanced Stylist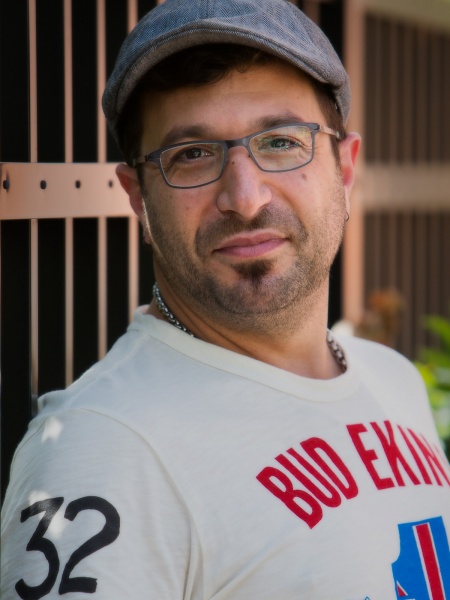 Why do you love being a Stylist?
"I love using my three dimensional eye and my natural talent with sculpture to create the perfect style for my clients. The success of making clients look and feel good gives me great pleasure."
Hair Inspiration/Role Model
"Salvador Dali for his imagination and Evil Knievel for his guts and risk taking."
Specializes In
All phases of cuts and color including curly haircuts, short women's haircuts, men's haircuts, hair painting and single palate color.
Favorite Product
Deva Curl No Poo Shampoo and One Conditioner – It transforms curly hair.
Color Proof Texture Charge – It gives your hair full, sexy, weightless texture.
Favorite Place to Eat in Montclair
Brick Lane
Hobbies
Art, Sculpture, collecting, estate sales, motorcycles, mechanics, salt water fish and bourbon.
Training
Graduate of Roman Hair Academy of Beauty with 17 years experience. Bumble & Bumble Styling 1; Bumble & Bumble Color 1; So Cap Hair Extensions; Deva Curl-specializing in curly haircutting & hiliting techniques; Licsio Japanese Hair Straighening; Martin Parson's Upstyling; Tony & Guy Classic Cuts; Nick Arrojo Razor Fundamentals; Vidal Sassoon Men's Cuts; L'Oreal Cut & Color Collections; Label M Product Knowledge; Alterna Caviar Product Knowledge; Lakme Haircolor; Framesi Haircolor; Wella & Sebastian Runway Show; J Beverly Hills Haircutting Workshop w/ Masaki Inoue & Juan Juan; Wella Haircolor; Wella's Maximize Your Business Seminar; Advanced Haircutting w/ Tim Hartley of Davines @ James Bentley Salon, NYC; Davines PK w/ Angelo Pacente; L'Oreal INOA; Mark Garrison Haircutting Workshop; Global Keratin Hair Taming System w/ Juvexin certification; Wella Essential Styling, NYC; Wella Creative Color, NYC; Haircutting Trends w/ Wella Top Artist Mark DeBolt; Sebastian Fall/Winter Haircutting Collection; Happy Monday Haircutting Trends w/ International Top Artist Nick Arrojo; Halo Calligraphy Cutting w/ Julian Seidel; Wella Hairpainting w/ Gianna Liberatore; Wella Color Contouring w/ Rachel Gugliemi; Men's Barbering; ECRU Style & Progression; Redken Shades EQ w/ Julie Lahr; Wella Instavintage Spring Collection w/ Alexandra Matiz;  R & Co Textured Bob; Wella Haircutting Trends w. Anna Vaul; Barbacide Sanitation certification
Certifications
Licsio Japanese Hair Straightening Certified
Global Keratin Certified
DevaCurl Inspired Certified
DevaCurl Advanced Certified
Barbacide Sanitation Certified
HOURS:
Alternating Bi-Weekly
Week 1:
Tuesday: 11am – 6pm
Thursday: 11am – 7pm
Week 2:
Tuesday:  11am – 6pm
Saturday: 8am – 4pm
LEVEL 6 – Service Pricing
Women's Haircut:   $130+
Women's Haircut w/ Iron:    $150+
DevaCut:   $170+
Men's Haircut:  $90+
Short Blowout:   $80+
Long Blowout:  $85+
Blowout w/ Iron: $110+
Deva 3-Step Set:    $85+
Single Process:   $135+
Double Process:    $170+
Glaze/Gloss:   $90+
Surface Hilites:  $140+
Partial Hilites: $200+
Full Hilites:  225+
Surface Balayage/Hairpainting:   $140+
Partial Balayage/Hairpainting:  $200+
Full Balayage/Hairpainting:   $230+
Ombre:   $230+
Global Keratin:   $440+
NOTE:  Additional charges may apply on chemical services.  Please ask for a price quote before your service begins
ONLINE BOOKING AVAILABLE  FOR ALL NON-COLOR/CHEMICAL APPOINTMENTS
https://na0.meevo.com/OnlineBookingApp/booking/guest-info?tenantId=101913&locationId=104376