Mariah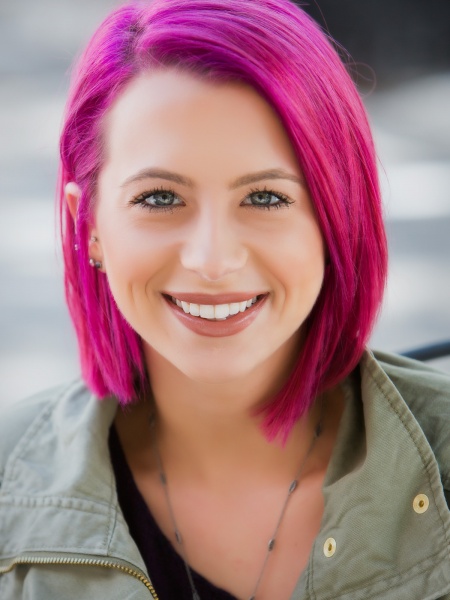 Why do you love being a stylist?
"To help people find the best look to express their personality; making people feel good about themselves and being there for people while I am doing their hair."
Hair Inspiration/Role Model
Evalam
Specializes In
Hair Painting and Creative/Fantasy Colors
Favorite Product
Davines All in One Milk – because it is good for all types of hair. For Fine Hair it is a good stylist product and for thick or coarse hair it is good for detangling.
HOURS:
Tuesdays:  11am – 7pm (every other)
Wednesdays:  10am – 6pm
Thursdays:  12pm – 8pm
Fridays:  9am  – 5pm
Saturdays:  9am – 5pm
Training
Graduate of Parisian Beauty School with 7 years experience. An inspirational evening w/ Sebastian Top Artist Anthony Cole Oct, 2012; NY Streets Freedom of Style May, 2013; Wella Illumina Haircolor Aug, 2013; Wella Art of Hairpainting w/ Artist Cherish Gordon Oct, 2013; Wella Reds w/ Artist Cherish Gordon Jan, 2014; Aqua Hair Tape Extensions March 2014; Label M London Focus March, 2014; Wella ColorId June, 2014; TruBeauty Haircutting Trends w/ Top Artistic Director Phillip Wilson Aug, 2014; Label M London Focus w/ International Artistis Director Richard Mannah Sept, 2014; NIOXIN PK & Hair Trends w/ Top Artist Vinnie Ferrara Oct, 2014; Sebastian Fall/Winter Collection Oct, 2014; Happy Monday Haircutting Trends w/ International Top Artist Nick Arrojo Nov, 2014; Wella Reds w/ Nicole Faugno; Redken Shades EQ w/ Julie Lahr.
Certifications
Wella Master Color Expert Program